Back in 2010, I wrote about Jeremy Lin, who was leading Harvard University to a league title, a birth in the NCAA postseason tournament, and was poised to become one of the first Asian American players in the National Basketball Association (NBA). Back then, I pointed out how he represents an example of Asian Americans balancing both model minority expectations with an extracurricular passion, and in doing so, is expanding the definition of success for Asian Americans.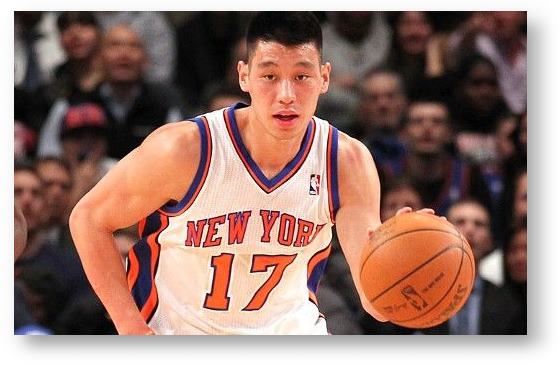 Since then, Jeremy went undrafted in the NBA after graduation but has now landed with the New York Knicks and is now exploding onto the basketball scene, as this New York Times article describes:
On Saturday night [Feb. 4, 2012], Lin came off the bench and powered the Knicks to a 99-92 victory over the Nets at Madison Square Garden, scoring a career-best 25 points with 7 assists. Two nights later, he made his first N.B.A. start and produced 28 points and 8 assists in a 99-88 win over the Utah Jazz.

Knicks fans now serenade Lin with chants of "Je-re-my!" and "M.V.P.!" while the franchise uses his likeness to sell tickets and teammates and coaches gush with praise. . . . Lin is raising expectations, altering the Knicks' fate and redefining the word "unlikely." On Twitter, fans and basketball pundits are using another term to describe the phenomenon: "Linsanity."

[H]e became the first player in more than 30 years to record at least 28 points and 8 assists in his first N.B.A. start. . . . When the Knicks claimed Lin off waivers Dec. 27, he was fourth on the depth chart at point guard. Now he is No. 1, continuing a long pattern of low expectations and surprising results.
As another example of the accelerating Jeremy Lin bandwagon, ABC News just named Jeremy its "Person of the Week" and profiled him in the following news segment video:
Needless to say, Jeremy's explosion into the U.S. cultural mainstream has inspired many Americans, and particularly Asian Americans. Beyond the mainstream media's ever-increasing proclamations of him as "Linsanity," "Lincredible," "Going All Lin," "Lin Your Face," or "May the Best Man Lin," Jeremy has also been described as Asian Americans' version of Tim Tebow, both for embracing his Christian faith and for the media sensation and "Linspiration" that he has become for so many Asian Americans. For the record, Jeremy is the first monoracial (that is, both his parents are Asian) Asian American (either born or raised in the U.S.) to play in the NBA, and one of the few monoracial Asian Americans to play professional team sports in the U.S. at all.
In so many ways, Jeremy represents a big step forward for Asian Americans and U.S. society in general in terms of racial inclusion and being considered part of mainstream U.S. culture. Jeremy's success actually follows a similar breakthrough moment for Asian Americans last year, as the hip-hop group Far East Movement became the first all-Asian American musical group to hit number one on the music charts with their single "Like a G6." As another example of the "mainstreaming" of Asian Americans, the creators of MTV's "Jersey Shore" are apparently in the process of creating a version that features an all-Asian American cast, to be called "K-Town."
From a sociological point of view, the cultural emergence of Jeremy Lin, Far East Movement, and K-Town demonstrate that Asian Americans are indeed increasingly part of the U.S. mainstream. Up to this point, because of the relative scarcity of Asian Americans in the mainstream media and popular culture, it was usually a shock when we did see an Asian American on TV, in the movies, or on the music charts.
But as Asian Americans becoming increasingly common in these areas of U.S. popular culture, are we headed for a day when it is no longer a "big deal" when we see Asian American faces in the media, just like it's taken for granted when we see White faces or Black faces? Ultimately, yes, that is the goal — for us as a society to no longer consider it "strange" or "unusual" to see Asian Americans in the media or in other prominent positions in U.S. social institutions.
If this idea sounds familiar, you might know it by its more common name — colorblindness.
In other words, part of being colorblind is what I just described — an ideal situation in which everyone in U.S. society is considered equal and when social, political, and economic distinctions based on race or ethnicity are no longer important or carry any sort of advantage or disadvantage. So in many respects, Jeremy Lin's success gives us hope that, as a society, we are moving a little closer to the ideals of colorblindness.
Having said that, as I have written repeatedly in this blog, in order to eventually attain this ideal of true colorblindness, we first have to recognize that despite the progress that our nation has made in eradicating racism, the practical reality is that inequalities based on race and ethnicity unfortunately still exist and that groups such as Asian Americans still experience much ignorance, intolerance, and outright discrimination because of their identity and position as a racial minority group.
Therefore, much like the idea of Asian Americans as the "model minority," I think we should definitely embrace and celebrate the emergence of Jeremy Lin, Far East Movement, and other examples in which Asian Americans are recognized for their success. Their accomplishments reflect how it is not a contradiction to recognize both their racial/ethnic uniqueness and their position as an integral part of mainstream society.
At the same time, we should also keep in mind that while we are getting closer to the ultimate ideal of colorblindness, there is still a lot of work to be done. Along with that, in order to keep working toward a time when true equality exists across all racial/ethnic groups, we need to understand that racial/ethnic distinctions still exist and still matter, and that the success of one person or a few people within that racial/ethnic minority group does not yet mean that members of that group no longer experience any injustice or discrimination.
In the meantime, despite my roots as a Los Angeles Lakers fan, I will definitely be rooting for Jeremy to keep lighting up the scoreboard and the "Lin-magination" of all Americans and beyond.
This article originally published at Asian-Nation.org and is copyrighted © 2013