First, I hope everyone had a nice holiday season and that your new year is off to a good start.
As reflected in the origin of its name (Janus, the Roman god of beginnings and endings), the first month of the new year is traditionally a time to reflect on two "opposite" ideas. In this case, I'd like to use a recent Time magazine article profiling Harvard University basketball player Jeremy Lin as an opportunity to explore opposing and contradictory racial presumptions in college and professional basketball.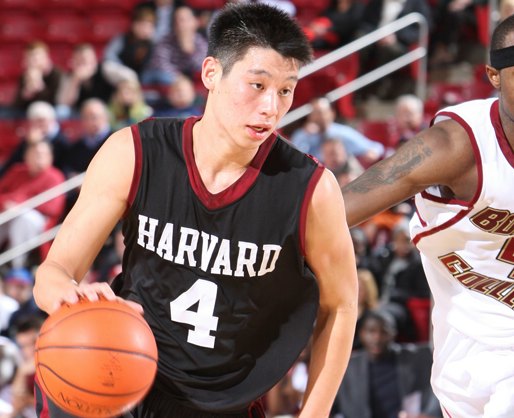 First, the article describes the success Jeremy is having as Harvard's star player:
It's been 64 years since the Crimson appeared in the NCAA tournament. But thanks to senior guard Jeremy Lin, that streak could end this year. Lin, who tops Harvard in points (18.1 per game), rebounds (5.3), assists (4.5) and steals (2.7), has led the team to a 9-3 record, its best start in a quarter century.

Lin, a 6 '3″ slasher whose speed, leaping ability, and passing skills would allow him to suit up for any team in the country, has saved his best performances for the toughest opponents: over his last four games against teams from the Big East and Atlantic Coast Conference, two of the country's most powerful basketball leagues, Lin is averaging 24.3 points and shooting nearly 65% from the field.

"He's as good an all-around guard as I've seen," says Tony Shaver, the head coach of William & Mary, which in November lost a triple overtime game to Harvard, 87-85, after Lin hit a running three-pointer at the buzzer. "He's a special player who seems to have a special passion for the game. I wouldn't be surprised to see him in the NBA one day."
I think it's important to first recognize Jeremy's success. He's worked hard academically and athletically to be in the position he's in right now. In many ways, he represents a nice example of how Asian Americans can balance both model minority expectations with a physical or extracurricular passion on the way to a well-rounded sense of personal balance.
The article later acknowledges the elephant in the room and points out why Jeremy's success is unique — he's Asian American. Unfortunately, he's also experienced some racism from opposing fans based on his racial identity:
A Harvard hoopster with pro-level talent? Yes, that's one reason Lin is a novelty. But let's face it: Lin's ethnicity might be a bigger surprise. Less than 0.5% of men's Division 1 basketball players are Asian-American. . . . Some people still can't look past his ethnicity. Everywhere he plays, Lin is the target of cruel taunts.

"It's everything you can imagine," he says. "Racial slurs, racial jokes, all having to do with being Asian." Even at the Ivy League gyms? "I've heard it at most of the Ivies, if not all of them," he says. Lin is reluctant to mention the specific nature of such insults, but according to Harvard teammate Oliver McNally, another Ivy League player called him a c-word that rhymes with "ink" during a game last season.

Just last week, during Harvard's 86-70 loss to Georgetown in Washington, D.C., McNally says one spectator yelled "sweet and sour pork" from the stands. In the face of such foolishness, Lin doesn't seem to lose it on the court. "Honestly, now, I don't react to it," he says. "I expect it, I'm used to it, it is what it is."
It would be simple enough to point out the obvious contradiction in Jeremy's situation — why is it apparently acceptable (or at least tacitly tolerated) to hurl racial slurs at an Asian American basketball player but not at say, African American players?
How would bystanders, teammates, coaches, security personnel, and even opposing players react if a fan in the stands yelled the N-word at a Black basketball player at a game? Chances are, that "fan" would immediately face backlash and would be ejected from the building faster than you can say "codes of conduct." In fact, Dartmouth recently issued an official apology to Harvard in the wake of anti-Semitic and homophobic slurs hurled at some of its squash players at a recent match.
But in Jeremy's case, there doesn't seem to be any sense of collective backlash or outrage over the racist comments he routinely receives on the court. Apparently it's another sad example of Asian Americans being seen as the invisible minority, perpetual foreigners, or as easy targets for racism.
But beyond that, I have to wonder whether his status as an Asian American — as opposed to an Asian — player plays a role as well. In other words, we have seen an influx of professional athletes from Asia in basketball (Yao Ming, Yi Jianlian) and baseball (Hideo Nomo, Ichiro, Daisuke Matsuzaka, etc.) recently but unfortunately, there is still a glaring underrepresentation of Asian American professional athletes in the highest-profile sports such as football, basketball, and baseball.
Although it's a documented fact that many Americans can't or won't distinguish "Asians" from "Asian Americans," my question is, are Americans (or in this case, sports fans) likely to accept Asian athletes more readily than Asian American ones?
Perhaps fans consciously or unconsciously are more comfortable with the idea that Asian athletes are likely to remain "foreigners" and therefore will eventually return to "their own" country and won't settle down in the U.S. and be in direct competition with Americans for jobs, etc., while Asian American athletes are in fact homegrown and are perceived to be a greater economic "threat" to "real" Americans. After all, many already perceive Asian Americans to be "taking over" other areas of American life such as colleges and universities.
So based on these perceptions, perhaps fans are unconsciously spewing racism — or at least remaining silent when such slurs are made — at Asian American athletes as another form of backlash against the ongoing socioeconomic success of Asian Americans.
The mentality and contradictions of racism are always subject to speculation but the examples keep adding up.