My family and I recently got back from our three week vacation to see family, friends, and sites in California. Our original plans actually involved camping out at the Grand Canyon and driving through Arizona but after the state passed their law to crack down on unauthorized immigrants through racial profiling, we joined the boycott and changed our plans to drive through California instead.
In chronological order, we were in Orange County (OC), Deer Park Monastery in Escondido (just north of San Diego), then back to OC for a couple of days, then up Pacific Coast Highway (Hwy 1) to San Luis Obispo and Morro Bay for a night, then continuing up Highway 1 into San Francisco and Berkeley for a few days, then over to Yosemite and Sequoia National Parks for a couple of days, then finally back to OC. While it was a pretty packed schedule, we had a lot of fun cruising around the state in our rented PT Cruiser convertible. I posted a short photo album of our trip at my Facebook page (thanks to reader Kevin for the tip on making the album viewable by everyone).
It was during this time last year that I posted about a couple of incidents at the annual Family Retreat at Deer Park Monastery that illustrated some curious racial/ethnic differences that still exist in an otherwise progressive and peaceful social environment. As you can see by the comments at the end of that post, my observations generated a fair amount of controversy and discord.
This time around, I would like to share some more observations about racial/ethnic issues that I encountered while on vacation, but this time describe how they illustrate a different set of interactions — harmony and a sense of cross-racial and cross-national community.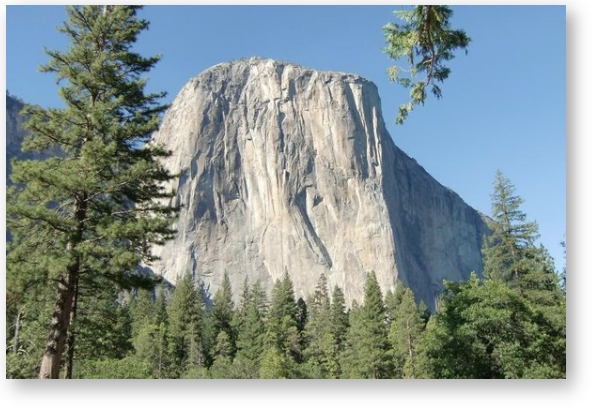 Specifically, it was during our visit to Yosemite National Park (picture of El Capitan above, taken by my daughter). We only had about 24 to spend at the park so in order to see as many of the most famous sites as possible in a relatively short amount of time, we decided to drive to the Yosemite Valley area and take their free shuttle around to different stops. At the stop nearest to Half Dome, we got out and walked up the trail a little bit to get a closer look, then walked back and got back on board the next arriving shuttle.
Once on board the shuttle, a conversation ensued regarding a pine cone — a young Japanese man was holding a large pine cone and a young German couple next to him asked him where he got it. He replied that he found it on his hike up Half Dome. Then an Asian Indian family close by remarked on how cool it looked and asked to take his picture with it. My Asian American wife also commented on how big the pine cone was and then a White American next to us chimed in by pointing out other areas of the park where people might find similar pine cones.
This relatively short interaction encapsulates and symbolizes that there are still plenty of wonderful and beautiful things about the U.S. that we can all enjoy and celebrate together as a community. That is, while there are still plenty of differences across numerous forms of identity that can potentially divide us, there are also many points in which we have in common, in this case, the natural beauty of Yosemite National Park.
As sociologists point out, these physical landmarks and social institutions can serve as a very strong kind of "social glue" to bind people from different backgrounds together across shared interests and values and in the process, start to bridge the social gaps and promote more solidarity between different groups. Other examples of common institutions can include religion, arts and entertainment, education, sports, food and cuisine, tourist attractions, etc.
While social divisions will continue to exist, there are many more things here in the U.S. and beyond that can potentially unite us as Americans and as citizens of the world. Far from being a contradiction, using common interests and institutions can actually help us assert equality and justice for everyone. Indeed, something as simple as a pine cone can also be a very powerful symbol of unity.