Most people know the Hummer line of sport utility vehicles as embodying a very "in-your-face" image of conspicuous materialism and conservative, anti-environmentalist values. Hummers have been the bane of environmentalists for a while, with many being vandalized through the years by radical environmentalists. Nonetheless Hummer owners are very defiant and a recent survey of Hummer owners confirms that in buying their Hummers, most of them made a very conscious choice that their vehicles directly reflected their morals about American individualism, "patriotism," and consumption.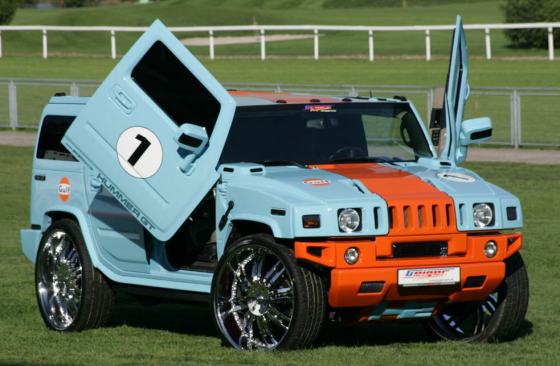 This social image of Hummer and their owners is what makes this most recent development so ironic — as news organizations have begun reporting, Hummer's current owner (General Motors) has just sold the brand to the Chinese heavy industry company Sichuan Tengzhong:
It marks the first time that Chinese investors have stepped in as buyers into the distressed U.S. auto industry. The sale also comes at a time when China has emerged as the world's largest auto market and GM remains majority-owned by the U.S. government after being driven into bankruptcy. . . . A person familiar with the deal said earlier on Friday that the Hummer business would be sold for about $150 million, far less than GM's early estimate that Hummer could fetch more than $500 million. . . .

Hummer's sales peaked in 2006 but have been hit hard since by a slumping U.S. economy, higher gasoline prices and a shift in U.S. consumer tastes away from Hummer's heavy-duty SUVs and its military-derived styling. Through September, Hummer's U.S. sales were down 64 percent this year. Analysts said the new Hummer faces a difficult task of revamping a macho brand associated with the excess of the past economic boom in the United States.
From a sociological point of view, the question now becomes, what will these individualist, flag-waving, American-valuing fans of Hummer do, now that their beloved company is owned by [gasp] a Chinese company?!?
Will they still embrace the brand and its macho, John Wayne-worshiping image? Will they continue to buy Hummers in the future, even though it means that their money will go to a Chinese, rather than an American, company?
I don't know the answers to these questions yet, but I will definitely enjoy sitting back and watching how these Hummer owners and fans grapple with this perplexing and ironic dilemma.