You may have heard that a coalition of about 60 Asian American organizations recently filed a complaint with the U.S. Department of Education, alleging that Harvard University and other Ivy League schools systematically discriminate against Asian American applicants using affirmative action. This complaint follows two similar lawsuits filed in federal court last November that allege the same charges of discrimination against Asian Americans using affirmative action.
Specifically, the complaints allege that Harvard and other universities around the country that use affirmative action policies ultimately discriminate against Asian American applicants by, among other things, imposing a quota that artificially limits the total number of Asian Americans admitted, and by forcing Asian American applicants to achieve higher GPAs and SAT or ACT scores in order to have an equal chance of admission compared to non-Asian applicants.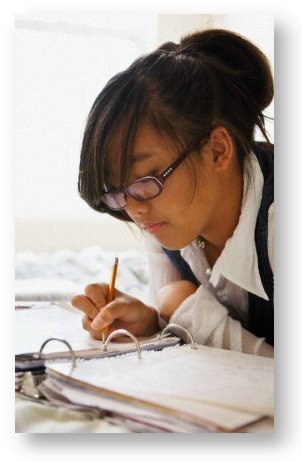 Before I continue, I want to reiterate that I strongly support affirmative action. Rather than detailing the multiple reasons why affirmative action ultimately benefits the Asian American community, I refer you to the recent post on AsianAmericanCivilRights.org that contains a concise summary of the arguments in favor of affirmative action, along with a list of more than 135 Asian American organizations that support affirmative action. Further, you can download copies of two studies by academics that provide even more detailed arguments about affirmative action and specifically, how "negative action," rather than affirmative action, explains the inequalities Asian Americans face in college admissions:
Chin, Gabriel, Sumi Cho, Jerry Kang, and Frank Wu. 2003. "Beyond Self-Interest: Asian Pacific Americans Toward a Community of Justice." (PDF)
Kidder, William C. 2006. "Negative Action Versus Affirmative Action: Asian Pacific Americans Are Still Caught in the Middle." (PDF)
These articles also get into how claims of discrimination play into the model minority image of Asian Americans, how affirmative action has been used repeatedly as a 'wedge' issue to divide communities of color by conservative actors, and to impart a superficial "honorary White" status onto Asian Americans and to use our community as an example that African Americans, Latino Americans, and Native American Indians should follow. So instead of elaborating on these aspects in detail, the purpose of this post is to provide an historical and sociological context for us to understand why some Asian Americans oppose affirmative action.
As I have written on previously, affirmative action is one of, if not the most divisive issue within the Asian American community (up there with interracial dating and marriage). As such, I am not surprised that many Asian Americans are passionately opposed to affirmative action. I also understand why they are so opposed.
The first factor that helps us to understand why many Asian Americans are against affirmative action is that, more than likely, those Asian Americans who oppose affirmative action tend to be recent immigrants. This is an important distinction because, as recent immigrants, they are less likely to be familiar with the U.S.'s unfortunate history and ongoing legacy of systematic inequality and discrimination against groups of color, particularly African Americans.
Instead, these recent immigrants are more likely to see the U.S. in very idealized ways, specifically as the "Land of Opportunity" where, if they just work hard enough and achieve the highest test scores and GPAs, they will be able to achieve "The American Dream" of economic, if not social, success. In other words, many recent Asian American immigrants see the U.S. as a pure meritocracy, where those with the highest 'objective' qualifications should reap the biggest rewards.
Unfortunately, this view of the U.S. as a pure meritocracy is rather simplistic, naive, and fails to consider the multitude of institutional mechanisms that historically, have given members of certain groups a systematic advantage over others, and how such advantages (and disadvantages) have accumulated and become reinforced year after year, decade after decade, generation after generation. As many supporters of affirmative action would rightly point out, even if a student is extraordinarily intelligent, motivated, and hard-working, s/he may not have access to certain economic resources and educational opportunities to maximize their talents and skills to succeed.
Based on this idealized, simplistic, and meritocratic view of U.S. society, these recent Asian American immigrants who oppose affirmative action are likely to think that if their child has higher SAT or ACT scores and/or a higher GPA than other applicants, then their child should be admitted, end of discussion. To them, any other factor besides 'objective' measures such as test scores and GPA are irrelevant. They would scoff at suggestions that factors such as applicant's life experiences, increasing demographic diversity in the student population, or racial identity can be considered (even though the U.S. Supreme Court has consistently concluded that it is constitutional to consider all such factors in college admissions).
Many of these recent Asian American immigrants who oppose affirmative action also come from professional or upper-income backgrounds. This tends to reinforce and perpetuate their meritocratic mentality of how the world, and U.S. society in particular, should work. In other words, they are likely to think, "If I worked hard and became successful, then why can't everybody else can do the same." Also perhaps because these Asian immigrants tend to come from a racially homogenous country, they are not likely to be aware of, or even care about, the history of systematic racism against African Americans, Latino Americans, Native American Indians, and other Asian Americans (such as those from refugee backgrounds in Southeast Asia from and therefore do not have the same levels of human capital) here in the U.S., and how the legacy of racism still hurts the chances of these groups of color even today.
If nothing else, this debate over affirmative action within the Asian American community should illustrate once and for all that Asian Americans are not a monolithic category and that instead, there are numerous differences across ethnicities, human capital and social class, generation, and political ideologies. With this mind, I completely understand why some Asian Americans are opposed to affirmative action. I just think that their arguments are misguided, too narrowly-focused, and completely miss the larger sociological and historical context that continues to frame the contentious dynamics of race and ethnicity in U.S. society today.