Those of you who have read this blog with any frquency know that I am a profound US Soccer/MLS fan. I'd blog about this every day if I could, but I do appreciate that the rest of the readership doesn't share my devotion/bordering on obsession with the "world's game." There are a few occasions, however, where politics/society and soccer intersect.
Last week, Robbie Rogers, a soccer player who has played for the US men's national team, the Columbus Crew of Major League Soccer and the storied English club Leeds United, simultaneously retired from soccer at 25 and came out as gay.
This admission in and of itself is not remarkable. A number of former athletes have come out as gay, including a teammate of Rogers, David Testo in 2011. The news recieved almost unanimous support from the US soccer community. Journalists, bloggers, supporters, players. etc. Illustrative of this support is this video made by the Seattle Sounders team: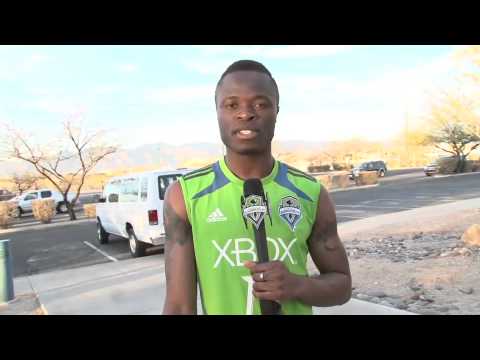 But I'm wary of getting too carried away with ebulient praise. Even with this outpouring of support, two MLS players (here and here) were fined by the league for using homophobic language on the field.
What this reflects is a nation still struggling with two competing impulses. On one hand, we are a deeply individualistic and pluralistic society. As such, the message "to each his/her own" resonates strongly. But at the same time, we have a religious/traditionalist strain that upholds sex and gender hierarchies and recoils at secular social change. It's this tension that allows someone to use a homophibic slur without thinking of it in it's homophobic context while at the same time being convinced that they are not anti-gay.
Sport is an interesting venue to examine how masculinity plays out in public. In all sports, norms are changing rapidly. As an example, Chris Culliver, a player for the San Francisco 49ers made this statement shortly before the game:
I don't do the gay guys man… I don't do that. No, we don't got no gay people on the team, they gotta get up out of here if they do… Can't be with that sweet stuff. Nah…can't be…in the locker room man. Nah.
If uttered 10 years ago, these remarks would probably go unchallenged. But they were uttered in a cultural context wherein Culliver was under pressure to rescinded these remarks. Contrast Culliver with Brendan Ayanbadejo, a player for the Baltimore Ravens and an outspoken GLBTQ rights advocate.
We in the US are going through a challenging and a reorienting of gender/sex norms. As an example, look at the seismic shift in support for gay marriage in the last decade. Our sports institutions are no different. There may be something about the marginal position of soccer in the US, it's constant construction as a "sissy sport" that makes its fan-community more empathic towards GLBT issues. Soccer's growing popularity in the US may refect a change in the culture towards an acceptance of more pluralistic presentations of masculinity… one that allows athletes to be gay and still perform in traditionally "masculine" venues like athletic competition.
Despite this, a major milestone has yet to be crossed. No openly gay player has come oout in a major men's professional US sports league while still an active players. A number of soccer commentators have speculated that Major League Soccer is ready to be the first. Grant Wahl of Sports Illustrated made the following observation:
I happen to think MLS, probably more than other U.S. men's sports leagues, is ready for an openly gay player. The survey response I got above says so. So do the actions of the league, which suspended two players for a total of six games last season for using homophobic slurs on the field. I also happen to think the popular support for an out player would extend to endorsement opportunities. As a friend in the business texted me Friday, "[Rogers'] commercial value just skyrocketed. I hope he comes back to the game."
I hope so too.