We love to puzzle over the rise in employment for women vs the decline in employment for men. Is it about psychology? (Leads to speculation about men's feelings of inadequacy.) Is it interpersonal? (Ends in "what does this mean for marriage?"… or how can we relate this to attachment parenting, [ffs]?).
But the big, giant, huge social forces of racism plus capitalism might help too: to wit, today the Center for Economic and Policy Research (CEPR) has published an analysis of Bureau of Justice Statistics data that indicates that incarceration in America reduces our male employment rate by 1.5 to 1.7 percent. The paper, "Ex-Offenders and the Labor Market," follows the CEPR's paper "The High Budgetary Cost of Incarceration" that was released last June.
Each year we produce around 700,000 "ex-offenders" … and those people's prospects on the job market are undermined. Meanwhile, more than 90 percent of those ex-offenders are men. And a disproportionate number of them are African American.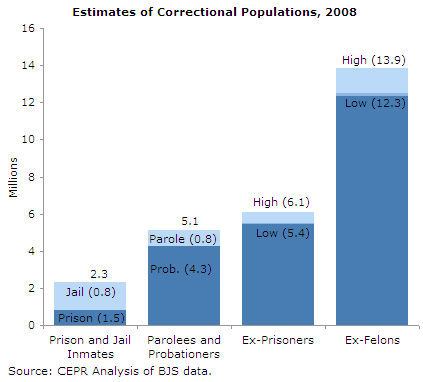 "It isn't just that we have the highest incarceration rate in the world, we have created a situation over the last 30 years where about one in eight men is an ex-offender," said John Schmitt, a Senior Economist at CEPR and a co-author of the report with Kris Warner, also from CEPR. Schmitt blogs on more details of his report here.
Consider this: When you are thinking about gender and trends in employment consider that in America, doing time is a social institution we've organized for doing gender. It is another one of our "man laws."