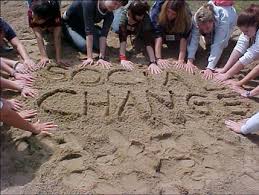 …what of the youth shaped by what some are already calling the Great Recession? Will a publication looking back from 2030 damn them with such faint praise? Will they marry younger, be satisfied with stable but less exciting jobs? Will their children mock them for reusing tea bags and counting pennies as if this paycheck were the last? At the very least, they will reckon with tremendous instability, just as their Depression forebears did.
This is an excerpt from a piece by Kate Zernike in Sunday's Week in Review (always my favorite section!) about how these economic times will shape the generation just coming of age. In short, there were plenty of comparisons made to the tight-lipped, nose-to-the-grindstone depression-era babies—the grandparents who reuse tea bags and never buy lottery tickets. The author and her experts wondered, will the kids of today become stingy, safe, and square tomorrow?
I'm skeptical. As I research my new book, a collection of ten profiles of people under 35 doing interesting social change work, I'm coming across a very different trend. Tough economic times seems to have made young people creative and very practical—a stunning and hopeful combination. It's not that they aren't feeling the burn. It's harder than it has been in decades to start a non-profit and get funding, for example. But here's the thing: today's youngest and most cutting edge thinkers aren't really starting non-profits or trending towards traditional methods of making the world more just. They're creating hybrid media companies, public-private ventures, drinking clubs, and secret societies. They're rejecting charity models and trying to figure out how to get folks to align their own self-interests with altruistic causes. They're thinking locally and globally simultaneously.
They're not taking huge financial risks—either personally or with the funding they bring in, but that's not keeping their philosophies or experiments "safe," as the NYT predicts. It's just motivating them to be incredibly creative, really resourceful, and organic in their interventions. What a silver lining, heh?