In case you haven't noticed yet, we are in the midst of a slow and steady renovation of The Society Pages. Over the next few weeks, we will tweak our design, add some new features (including The Reading List, as described earlier this week–look over to the left), become more interdisciplinary, and develop and publish more of our own original content. We believe  these changes will help us do an even better job of meeting our  mission of bringing sociology and its aligned social scientific disciplines to broader public visibility and influence, and doing so in an even more timely and regular manner. Even better: it's our free gift to you. As we said in our post on why we're doing a SOPA black screen earlier in the week, we want academic research and knowledge to be directly relevant, and that means it needs to be accessibly written and accessibly posted. You can read it, you can understand it, you can apply it. And hopefully you can share it with others (or, like The Reading List says, use it to impress others at parties).
In one interesting new direction, I am personally beginning to work on a new project with the Twin Cities-based documentary photographer Wing Young Huie. We're calling it "Changing Lenses." The collaboration grows out of a profile of Huie's landmark images I produced for the final Minnesota issue of Contexts: "Up Close and Communal," and the basic idea is for the two of us to explore the connections between sociology and photography by exchanging comments and ideas on each other's work. Specifically, I will provide sociological context and commentary on some of Huie's various projects and famous images, and Wing will  supply images and observations on some of my recent papers and studies. We are particularly interested in delving into themes related to race, identity, different, culture, and otherness in contemporary American life, and there will probably be some sports stuff thrown in there as well (Wing and I actually met playing pickup basketball).
Anyway, we are going to workshop this collaboration this coming Friday night at Wing's studio in south Minneapolis (see press release below). In the event, I will provide an overview of my vision and goals for TheSocietyPages, then Wing and I will test pilot our concept a bit through a conversation on difference, diversity, and otherness in which I discuss a few of Wing's landmark images, and he engages some of my academic research in images. Then we'll then invite input and feedback from the audience—and, as is always the case for events at Wing's studio, the event will conclude with ping pong and karaoke. Anyway, if you are local, I hope you can join us in workshopping our project and beginning to chart the future of the new Society Pages content.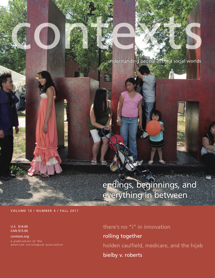 —–
(k)now launch party featuring Doug Hartmann
Friday, January 20th at The Third Place
To celebrate the launch of Wing Young Huie's blog
(k)now
, Wing will have a public conversation with sociologist Douglas Hartmann, Ph.D. about their respective websites and a new collaboration in which Wing and Doug will react to each other's past and current projects, exploring the nexus of photography and sociology. This partnership grows out of a profile of Wing's landmark images that Doug published for the final Minnesota issue of
Contexts
called "
Up Close and Communal.
" Wine, beer and light refreshments will be served.
Douglas Hartmann, Ph.D.
is Professor of Sociology at the University of Minnesota. He is the author of
Race, Culture, and the Revolt of the Black Athlete: The 1968 Olympic Protests and Their Aftermath
and co-author of  
Ethnicity and Race: Making Identities in a Changing World
. Hartmann just completed a term as Editor (with Christopher Uggen) of Contexts, the award-winning American Sociological Association magazine that brings sociology to broader public attention, and is currently finishing a book called Midnight Basketball: Race, Risk, and the Ironies of Sport-Based Crime Prevention in Neoliberal America. Professor Hartmann was the recipient of the Midwest Sociological Society's inaugural Early Career Scholarship Award in 2008, and his work and comments on sport, race, popular culture, religion, and multiculturalism have been featured media around the world. His newest venture is
TheSocietyPages.org,
an online hub designed to make social science accessible and relevant for the public, including reporters, pundits, policy makers, educators and students.
Wing Young Huie
is an award-winning photographer whose work focuses on diverse urban environments, especially those in his home state of Minnesota. He is best known for large-scale public installations of his photos, most recently  
The University Avenue Project
(2010) in Saint Paul, which was produced by Public Art Saint Paul. Wing has authored five books and recently opened The Third Place, a gallery/community gathering space in South Minneapolis. He is launching (k)now, his first blog, which will present new work centering around a serialized photographic novel as well as work from Wing's extensive archive of images.When:    Friday, January 20th
Time:     Doors open at 6:30pm, Presentation starts at 7pm, followed by discussion, followed by ping pong and karaoke!
Suggested Donation: $5 – 10
Where:  The Third Place
Wing Young Huie Photography Gallery
3730 Chicago Avenue South, Studio B
Minneapolis, MN 55407

www.wingyounghuie.com