The Human Microphone was created by Occupy Wall Street as a way to get around New York City's ban on amplified sound in Zuccotti Park. In other words, it is a tool–and a form of non-digital technology–designed to facilitate communication and discussion in large crowds. But like any form of technology, its use isn't confined to what it was originally created to do.
This is Karl Rove being "mic-checked" while delivering a speech at Johns Hopkins on November 14th. It starts about 1:48 in (be aware, there's a huge jump in volume at that point).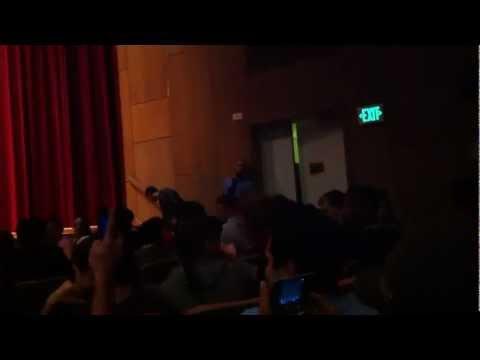 The evolution of the techniques and technologies used by activists – their "repertoires of contention", in the words of Charles Tilly – is a feature of any social movement. Clearly that's happening to the Human Microphone now: what was a tool of communication is now also a tool for directed and targeted protest. Communication is still a huge part of this; it can't not be, given that one grievance common to many members of the Occupy movement is a perceived lack of "voice" in politics. Communication, in this instance, is protest. And the technology and the protest itself are fundamentally intertwined.
This also stands against the fallacy that technology itself is neutral: in its very design the Human Microphone is imbued with the ideology of its makers–especially given that its components are actual human voices, used with intent and consent. It might be used for any number of things, but it is inseparable from the people who created it and the people who bring it into being every time it's used.
It will be interesting to see if President Obama and his as-yet undecided GOP opponent find themselves mic-checked on the campaign trail next year.