There will be a special event the evening before Theorizing the Web at the important intersection of theory and art. Admission is open to all and is free of charge.
When? This Friday, April 8th, 6:30P
Where? Irvine Contemporary Gallery, DC, 1412 14th St NW
Why? Art plays a prominent role on this blog and also with this conference. The media-prophet Marshall McLuhan argues (see 10:58 in this video) that only the artist has the "sensory awareness" to tell us what our changing world is "made of." While many of us are not willing to go this far, it very well might be the case that artists are uniquely prepared to give insight on this new, augmented reality that social media and other new technologies are creating. In a sense, artists sometimes precede theorists and academia. And in this spirit, Theory Meets Art literally precedes Theorizing the Web.
We begin with a brief performance by ambient musician Yoko K. Then, we will screen a feature film that we feel should be centrally important for thinkers on technology, art and society. The film is a Sundance Grand Jury Prize winning documentary called We Live in Public that chronicles the story of one Josh Harris while also making important theoretical points about privacy, publicity, capitalism, identity and much more through the lens of art. For more on the film, see my review in a recent edition of Surveillance and Society. After the film, we will have a discussion on art and social media with world-renowned street artist Gaia. The night will be hosted by Dr. Martin Irvine, who is giving a talk on street art and social media on Saturday. Last, there will be a social reception at the gallery.
We are very excited to start this conference at this wonderful gallery in the heart of DC. Away from the concrete spectacle of downtown, the gallery is situated in a beautiful section of the city, a short subway ride from College Park. We encourage everyone to come to this event and begin a wonderful weekend of Theorizing the Web!
Yoko K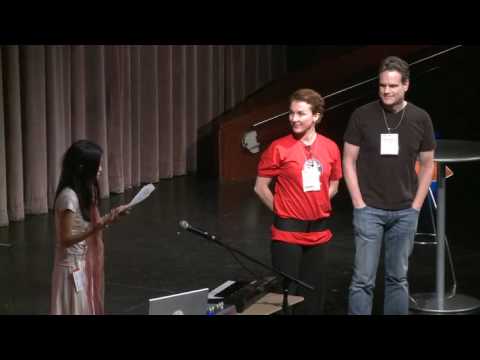 We Live in Public

Gaia

A flier for this event [.pdf].
More details and directions can be found on the conference website.